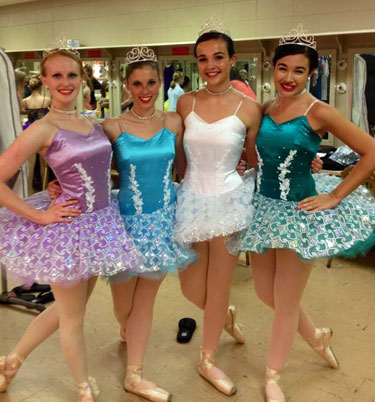 Dress Code
Dress codes are important for comfort as well as safety reasons and will be strictly enforced.
Pre-school Classes (ages 2 ½ thru 4)
Pink leotards, pink tights, pink or black skirt is optional. Pink Leather Ballet Shoes. Hair pulled away from face.
Ballet Students - Beginner thru Advanced
Pink or Black Leotards, Pink Tights, Pink or Black Skirt is optional. Pink Leather Ballet Shoes, Hair must be pulled away from face and off the neck. No dance pants or shorts allowed in any Ballet Class!
Miss Elizabeth Youth Ballet Students
Students will wear the uniform leotard to class every Monday. These leotards are available at the studio. Hair MUST be in a bun!
Pointe Students
All Pointe Students must get fitted for Pointe Shoes at the studio.
Jazz, Tap, Hip Hop, Lyrical and Tumble Classes
Any Color Leotard, Dance Top, Tan Tights, Dance pants/capri, Dance Lycra Shorts, (Soffee shorts, T-shirts, and clothes from "Justice" store are not acceptable dance wear!)

Required Dance Shoes
Pre-school Classes - Pink Leather Ballet Shoes
Jazz and Hip Hop - Tan Slip-on Jazz Shoe - Your teacher will request which shoe and brand to use when you register. Our older students may also need black and tan shoes at teachers' request. Hip Hop students will need Tennis-shoes.
Ballet - Pink Leather Ballet Shoes
Pointe Students - To ensure proper fit, all pointe students must get fitted for Pointe shoes in the studio.

Lyrical - Tan Slip-on Jazz Shoe - Your teacher will request which shoe and brand to use when you register. Our older students may also need black and tan shoes at teachers' request.
Tap - All tap students will wear the Tan Mary Jane Shoe.
Tumble - Barefoot
Please label all dance bags and shoes
No big jewelry is allowed in dance class
You must follow the dress code at all times in order to attend class
Policies
ATTENDANCE
Attendance is taken in class. Good Attendance is imperative, as absences and tardiness can hold back an entire class. Please be advised that the studio cannot jeopardize its responsibilities to the rest of the class for one student. Please make every effort to have your child in class.
** Please discuss with your child before classes begin that it is important for them to finish what they start. The job of getting them to practice is sometimes the hardest part, but once you get your child to practice they will enjoy themselves as well as learn.
COSTUMES
Students are required to wear costumes for the recital. The number of classes you take will determine the number of costumes your child will need. The prices of these costumes range from $76.00 to $85.00. Adult sizes are usually a few dollars more. A notice of costume will be sent home with your child in September. One-Half of the balance will be due in October and the final payment due in November. Costumes Are Ordered During Thanksgiving Break. Costumes ordered on the 2nd order are not guaranteed to arrive in time for pictures. Costume fees are Non-Refundable.
You may set up a payment plan for your child if they have 3 or more costumes: Please see Ms. Joyce for details.
RECITAL PARTICIPATION FEE
The Fee to participate in our recital is $80.00 This fee covers the scenery, stage, lighting and props used during our show. This fee can be split into two payments ($40.00 due in Sept. and $40.00 due in Feb).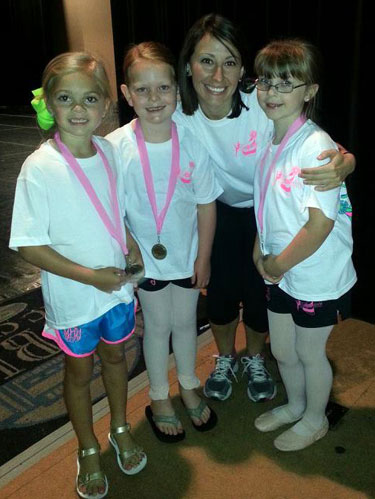 TICKETS
Tickets to the recital will be sold in April. Date TBA. Dancers do not need a ticket.
DISCIPLINE
Positive reinforcement is used to guild our children toward acceptable behavior. When discipline becomes necessary, a child is first corrected several times. If that is not successful "Time Out" may be necessary to give the child a few minutes to reflect on his or her behavior.
PARENTAL CONTROL
Please know who is picking up your child at dance. Sometimes lack of communication happens. Please let the studio know if someone else is picking up your child besides you.
PROBLEMS
If you have a problem or concern please see Miss Brandi or Ms. Joyce. All calls must come through the studio phone. Please do not call our homes or contact us through Facebook. (If it is an *emergency* then you may call our home.) Studio Phone: (251) 621-3980. The studio opens at 4:30 every day.
HOLIDAY SCHEDULE
We follow the Baldwin County public school system. We may choose to stay open for some holidays but you will be notified in your newsletter of these dates.
BAD WEATHER
During hurricane season our classes will resume as soon as the studio has power. You will be notified.

Studio Rules
** ALL STUDIO RULES WILL BE STRICTLY ENFORCED **
1. No one is allowed in the dance studio unless a teacher is present.
2. No gum, food or drinks are allowed in the lobby or studio area.
3. Dress code must be followed to attend class.
4. No running or hanging on barres in studio.
5. No going behind Ms. Joyce's counter.
6. Please use the restroom before class.
7. No tap shoes are allowed in lobby.
8. No child should be dropped off or picked up no more than 15 minutes before or after class.
9. No playing in the restroom.
10. Please label all shoes and bags.